Mount Anne, Jan 2019 (SOTA)
Last week I had the chance to climb Mount Anne and give it its first SOTA activation. The track starts at the east end of Lake Pedder and climbs to Mount Eliza, then follows a ridge northward to Mount Anne. The full Mount Anne Circuit is a popular multi-day walk that passes around Lake Judd and brings you back about 8km down the road. We also met a lot of daywalkers who were going up Mount Anne and back in the same day. Our party planned a middle option where we could take our time—climb Mount Anne on the first day, camp at nearby Shelf Camp, then return the next morning.
There's a campsite, hut and toilet a little below the summit of Mount Eliza. Up to that point the track is clear and has lots of steps built into it. It's easy to follow but hard on the knees coming down. After the hut it turns into a steep boulder-scramble to get to the summit. This part is legitimately hard work with a pack. There are plenty of cairns to follow but in some cases I didn't spot the easiest way up until I was coming down again.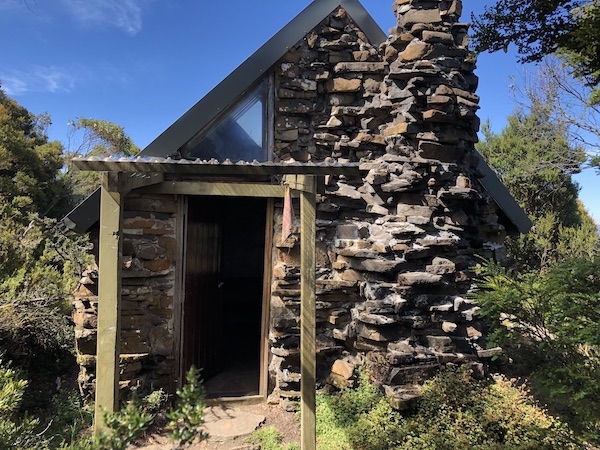 The two-level hut below the Mount Eliza summit. Take your time to read the graffiti.
Once on top of the ridge it's a mixture of track through open plateau and scrambling over scree. After passing the western side of Eve Peak we reached the junction. The track to Mount Anne continues north while Shelf Camp and rest of the circuit splits off east. We chose to leave our packs at the junction and attempt the Mount Anne summit on the first day. In hindsight this was a good decision—Shelf Camp is clearly visible from the junction but it's a longer walk than it looks.
The track to the Mount Anne summit has impressive views all the way. Unfortunately getting to the top requires a couple of manoeuvres more familiar to rock climbers than walkers like me. There was a real risk that I would fall off a cliff if I stuffed it up badly enough. We had excellent weather conditions and plenty of time to discuss and execute our moves, so we persevered and the whole party made it up. In my opinion the "second challenge" where you follow the ledge then go vertically to the right is the trickiest part, and the ledges that follow are more manageable. Carrying several kilograms of radio gear and a squid pole didn't make this any easier. If you're attempting an activation please be careful and be prepared to turn back if you're not confident you can do it safely.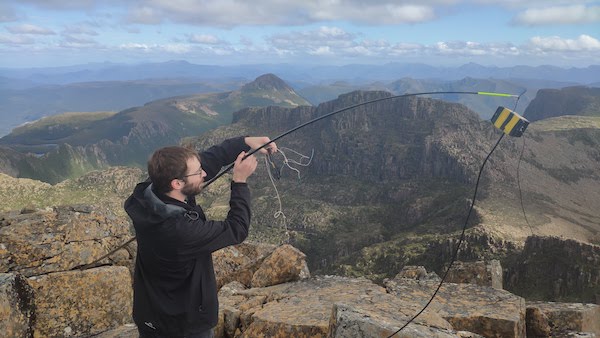 Photo courtesy of Faulteh
At the top I set up my squid pole, dipole and FT-817 for some action on 40 metres. It's actually difficult to pin down the ends of a dipole antenna when you only have large boulders to work with but I made do and got a tolerable SWR. I parked myself on 7110 kHz which seemed quiet and put out a few CQs. I'd heard some activity from the rest of VK across the band so I got out my phone and self-spotted on SOTA Goat. This immediately brought out VK2IO/P who was portable on another summit, then enough other VK2s and VK3s to get my activation points (5 contacts total). I was only getting reports of S2-5 with my 5 watts, which probably explains the low number of contacts. I was operating at around 5:30pm and I assume the band would have opened more if I stayed for longer, which I didn't, because I wanted to tackle the downward trip with plenty of sunlight.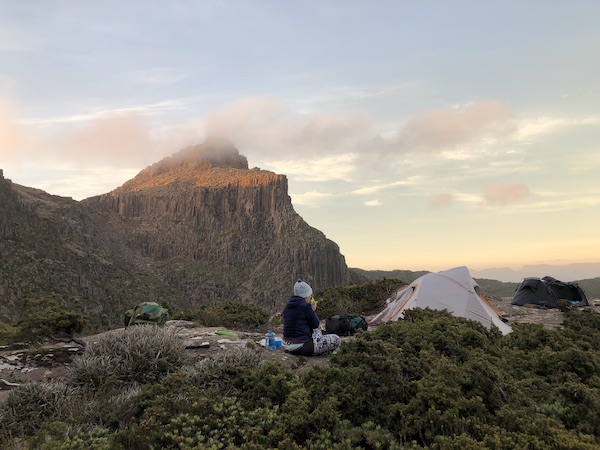 Shelf Camp looking towards Mount Anne
Camping at Shelf Camp was magical. It's chilly up there even in summer but the views up to central Tasmania are incredible and it even had running water at the back. I've been told it gets nasty when the weather turns so I was lucky to miss that. Someday I'll come back and do the full circuit for sure. I also notice that Mount Lot and Mount Sarah Jane are ten-pointers…
---