Frenchmans Cap, April 2019 (SOTA)
"…QTH Frenchmans Cap, Frenchmans Cap, summit ID VK7 Whiskey Charlie 002. CQ SOTA, CQ SOTA, CQ SOTA, here is Victor Kilo Seven November Tango Kilo portable, Victor Kilo Seven November Tango Kilo portable, standing by!"

A blast of frigid mist blows over the scattered rocks and snow, buffeting two figures dressed in black. One sits cross-legged, cradling a microphone in one gloved hand and brushing raindrops off a small notepad with the other. The second figure stamps around in circles trying to stay warm. The only cover on the flat summit is a low semicircular cairn built from small rocks and it's wholly insufficient.

The CQ goes unanswered. SSB noise crackles out of the radio and blurs into the wind.

"You know there's a front coming through, right? There's supposed to be two mills of rain."
"Really? Was that on the forecast that I read?"
"Yep!"
"… Fuck. All right, three more calls and we'll pack it up."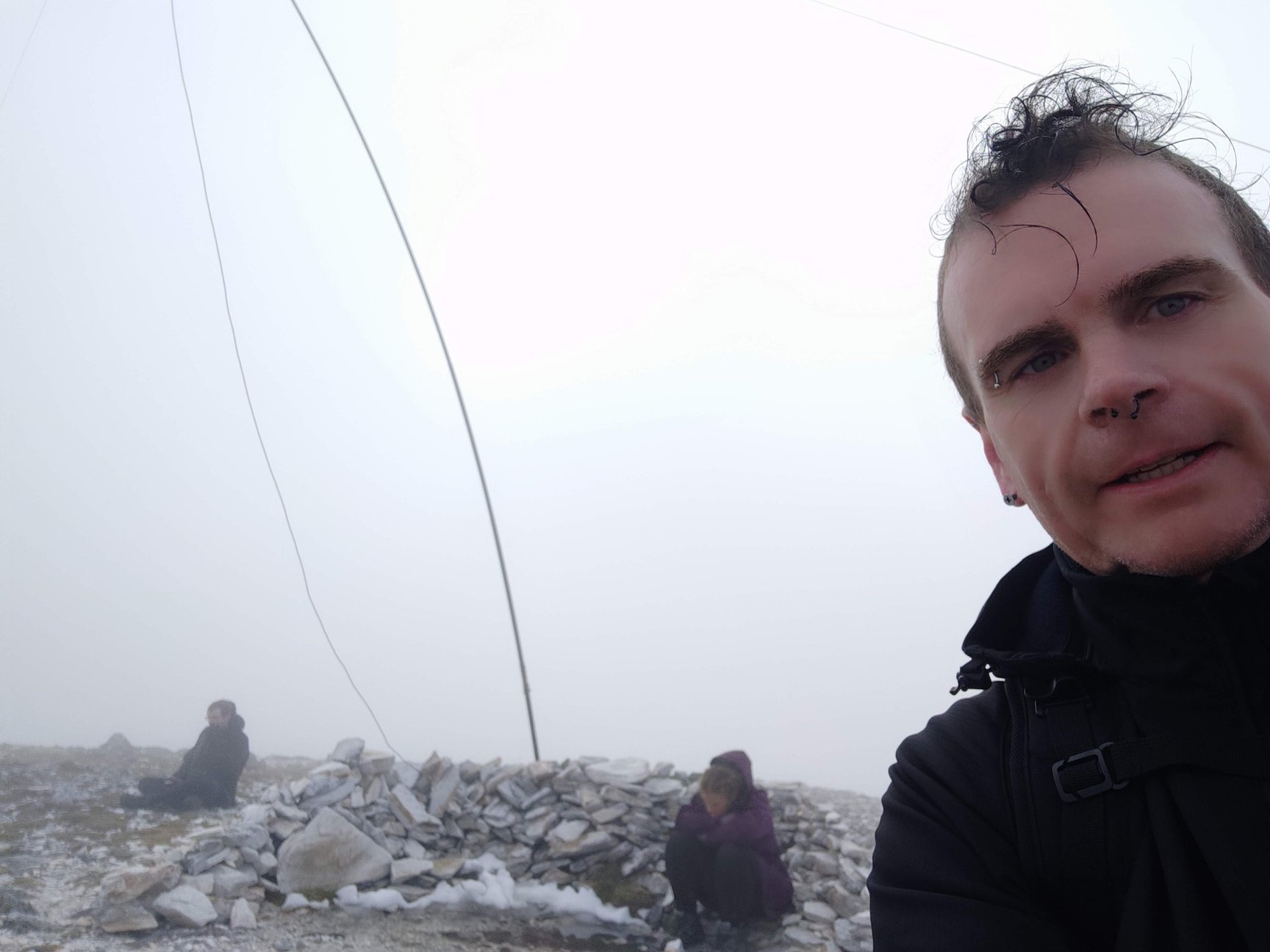 I can't quite tell whether I take SOTA seriously or not. I don't activate often or even prepare well, but when I do it I like to take my gear to ridiculous places. I'm not going to get my Mountain Goat award any time soon but it's satisfying to make contacts in places where even my phone doesn't work.
When my walking buddies suggested a trip to Frenchmans Cap, nominally a four-day round trip, I saw that it hadn't been activated yet. With the bragging rights for first activation up for grabs I decided to allocate a couple of precious kilograms to radio equipment.
The walk is more straightforward than it was a few decades ago. River crossings by log and by flying fox have been replaced with permanent suspension bridges. The "sodden loddens" that had walkers up to their waist in mud are now mercifully duckboarded. (Remarks in the old hut log books suggest that those who persevere through the mud instead of trampling pristine flora will be rewarded with a thriving sex life.) Some sources still warn about the mud. Nowadays it's nothing that a good pair of waterproof boots won't handle.
Around 14 km and two bridge crossings in, Vera Hut appears along with Lake Vera and a campsite. Our party chose the solitude of sleeping in tents for the whole trip, which was made easy by wooden platforms at both campsites. The platforms have chains to attach the tents—you can leave the pegs at home. The huts were a welcome break from the evening chill though and a good place to sit down for dinner.
On the second day we did the shorter walk to Tahune Hut, set up the tents and proceeded to the summit of Frenchmans Cap. Unfortunately we were punished for the delay—it had been glorious weather all day, when about 30 minutes from the top a high-altitude mist blew in to surround the mountaintop in blustery cold greyness.
With this being my best chance for a SOTA activation, I fumbled around in the near-freezing to set up my antenna. My poor old squid pole has been through the mill. The last time I used it was on Mt Anne. Descending that summit with equipment is relatively challenging and the pole took an unfortunate fall down the cliff face. Possibly due to that impact, the innermost segment of the pole was jammed somewhere inside, which meant I didn't have a convenient loop to attach the wire on the top of my balun.
"No problem", I thought. "I brought electrical tape for exactly this sort of problem!"
If you've tried to use cheap electrical tape in damp and freezing conditions before you can imagine how this went. It kept snapping off when I didn't want it to and barely adhered. Through sheer luck I managed to wrap a couple of loops around the plastic case of my balun and get enough stickiness for it to stay on the second-smallest segment of the squid pole when I hoisted it up. I was certain it was going to fall down at any moment but somehow it stayed up for the 30 or so minutes I was operating.
After nearly 10 minutes of calling I made my first contact with Chris VK3WAR, near East Melbourne. He gave me a 5-and-9, which I was pretty happy about given that I was using an FT-817 running on internal batteries. He did a bit of a radio double-take, showing up on the frequency ten minutes later having looked up my location to express his surprise how far I was from, well, anything. I also got a 5-and-3 from VK1VIC, who helpfully offered his second callsign VK2VIC for the log but I don't really think it counts.
Propagation was okay but contacts were slow, partly because I didn't have mobile reception. If I did I would have spotted myself using SotaWatch. With the clarity of hindsight, I made an error here—my friend Scott VK7LXX was present with me on the peak and he did have reception. While I didn't remember my SotaWatch password, if I'd thought to ask him to turn on his hotspot, I could have got my phone online and sent out an alert through SOTA Goat. Maybe that would have been enough to reach four contacts in the narrow time window and get the points.
Alas, as the snippet at the start of this post suggests, the weather on the summit was not ideal. We had a mildly complicated descent over slippery rocks waiting for us so when the rain came along, sensible decisions were made and we left with only two contacts on the log. I got the activation. It's just not a good one.
Once we reached lower altitudes the weather was again gorgeous. In fact we could probably have spent longer on the summit but we had no idea of knowing that while we were up there. The real front came through at about 11pm, hitting the campsite with driving wind and rain. I'd been considering going back up early the next morning—in UTC terms, it would technically still be the same day as my activation the previous afternoon—but it was still drizzling and misty and I decided not to bother.
Over the next two days we hiked back out. There were no major mishaps and we enjoyed burnt coffee from Derwent Bridge on the way home. Good times.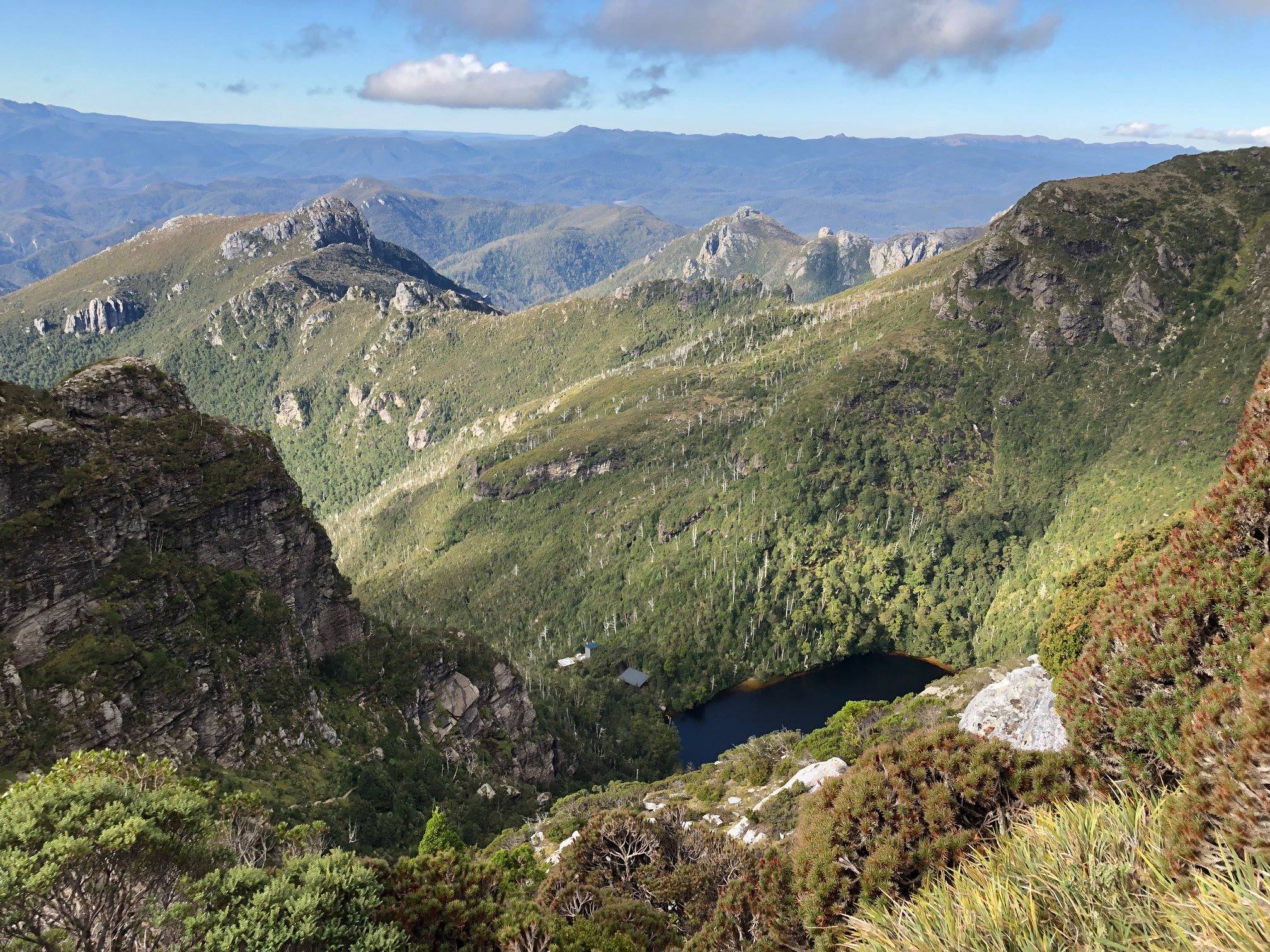 Lake Tahune and hut from the track up to Frenchmans Cap summit.
---