Exploring the network¶
To get the most out of GNU social you need to find your way around the various servers.
The different timelines¶
If you've used Twitter before you're used to the Home timeline. This shows messages posted by people you follow. Because GNU social consists of separate servers you can browse three different timelines:
Home

People you follow

Public / Public Timeline

Everybody on this server

Network / The Whole Known Network

Everybody that this server knows about
This is how it would look if you followed two people on the same server as you, plus two people from different servers: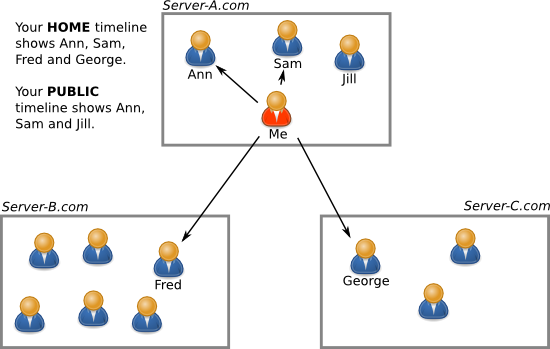 Following¶
Thanks to federation it is easy to follow both people on the same server as you and on different servers. However, following someone on a different server can require a couple of extra clicks.
If you're on one of the Quitter servers (or any server that uses the Qvitter plugin) there is an easy way to do both. See Following people using Qvitter.